Fresco Outdoor Canopy Rooms
Transform your outdoor living area into a masterpiece with tailor-made fresco canopies and awnings, intelligently crafted to maximize space, style, and overall property value.
Enjoy

outdoor

living

while

its

☀️sunny

🌧️ rainy

💨 windy

all

year

round!
Regardless of the weather – or the time of the day – you can enjoy alfresco living in your new outdoor canopy room. Our multi award winning and locally designed concept provides the ideal transition between your indoor and outdoor spaces, or as a covered space for BBQs, play areas, vehicles, spa pools, boats… the list is endless. As an extension to your home, your Fresco room will become your favourite place to live all year round.
100% Custom designed to suit your outdoor area
Fresco Shades Canopies are available in a variety of different styles to suit. Our most popular arch awning design creates an increased feeling of space; however we offer other designs such as the semi arched or lean-to styles. Mostly our canopies are attached to your home or building with strong custom made brackets, however they can be made as free standing awnings if required.
Top quality local & imported materials
Fresco's long lasting, ultra strong galvanised steel frame and world leading PVC cover ensures a robust and stylish solution. Choose from our wide range of fabric and frame colours and canopy options to match your taste or existing scheme. Fresco's specially designed powder coating plant means a top quality, long lasting finish with no delays while waiting for secondary suppliers. We handle all our own fabrication from our purpose built premises in North Auckland and only use the highest grade steel and PVC materials to ensure strength and longevity.
Design your own outdoor canopy room
Various design options. Retractable & Fixed roof. Optional side screens. Choose your colour scheme.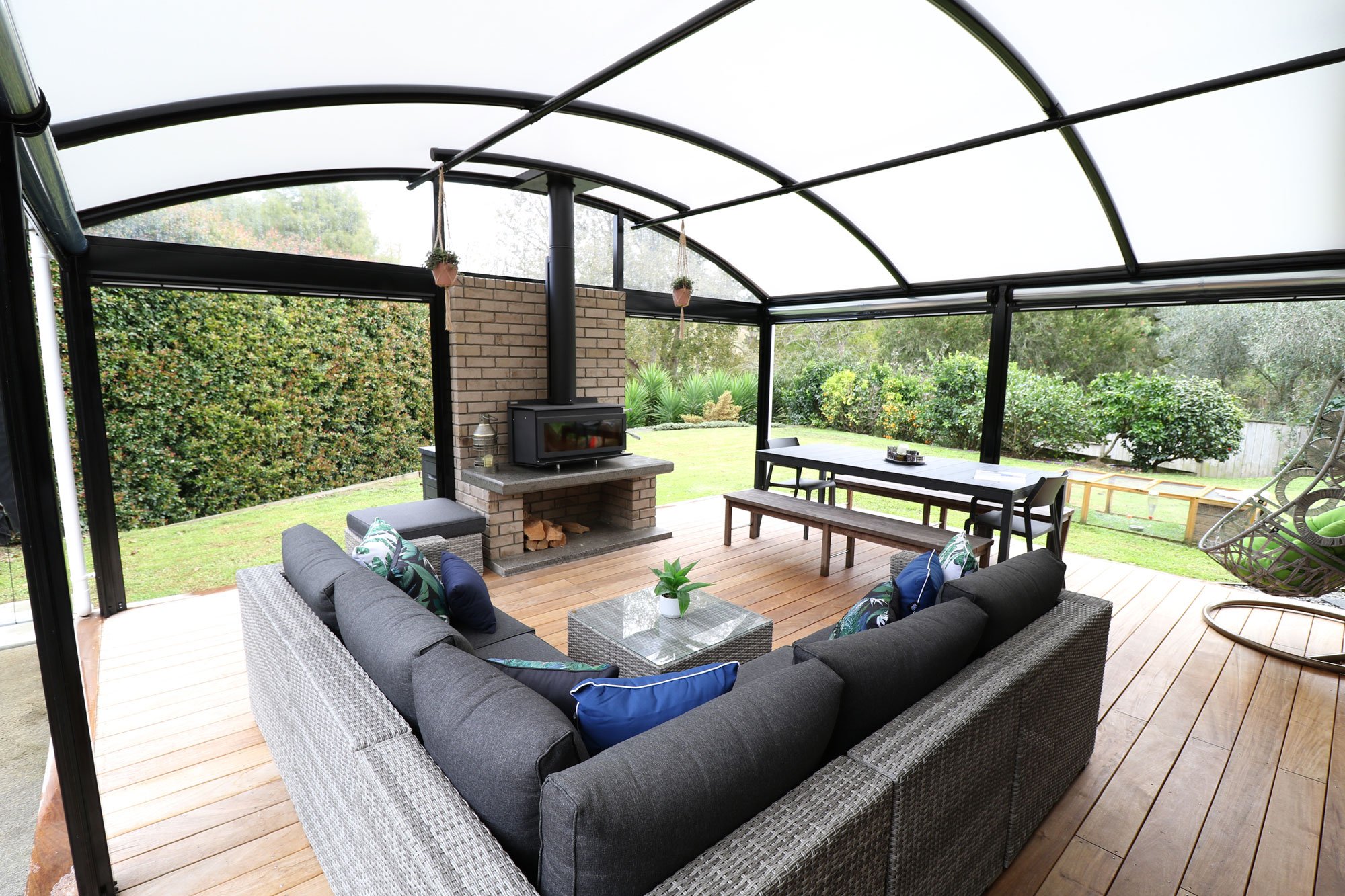 Durable galvanised steel frame
Manufactured and power coated to a colour of your choice
Spring loaded curtains
Effortlessly adjust curtain to any height for maximum flexability
High quality architectural grade PVC roofing
Blocks heat while letting in plenty of light. Various colours to chose from.
Clear endfill
Blocks wind & rain but lets in light
International & Local Award Winning Designs
Fresco is proud to have won multiple OFPANZ (Outdoor Fabric Products Association of NZ) Excellence awards & multiple IFAI International Achievement Awards.
Building magical outdoor rooms for over 25 years.
Fresco was established in 1998 and are proudly NZ owned and operated. We designed and developed this award winning product range ourselves, and we can custom make a shade to fit most situations. Our mission is to "Enhance customers' lives by creating magic outdoor spaces, allowing Kiwis to enjoy their outside living all year long." From the beginning our emphasis has been on innovation rather than replication, and our range of awnings and canopies now encompasses our unique "outdoor room" concept, as well as several other unique styles.
Excellent
4.6
★
★
★
★
☆
Based on 49 reviews from
review us on
Adrienne Dempsey
★★★★★
This awesome FRESCO Canopy and the Zip Track Blinds are absolutely wonderful, we couldn't be happier!!From Mathew coming to measure up, Steve and his two workers doing the installation, the Customer Service and ongoing follow up could not be better. It has added a wonderful new outdoor area to our wee cottage and admired by everyone. Would most definitely recommend FRESCO they are absolutely awesome in every way.
Response from the ownerThanks so much Adrienne for sharing your comments. The team really appreciate it and we are delighted you are happy!
Ako Langimalie
★★★★★
We're very happy with our outdoor blinds. It makes our lives easy now. Before our blinds used zipper and you have to roll it up to clip it. Now it's very easy, you just slide it up and slide it down. Not only that but we did wanted our blinds to be install on a specific time, earlier than their timeframe for installation. Richard and Anel worked together to make it happen. And it did. Thank you Fresco Shades.
Sheryl Mather
★★★★★
We are very happy with this product. We spent a very long time trying to find what we wanted and when these guys showed up we were very impressed. Great service and product knowledge from Matt. Installation guys were impressive with there efficiency and left the place clean and tidy. Would totally recommend this product to anyone. Brilliant!
Response from the ownerHi Sheryl, thanks so much for the great feedback, I'll pass this on to the team. Wishing you many happy years under your Fresco Canopy!
Marie-Christine Belay
★★★★★
We had to have our 15 yr plus Fresco shade maintained. The team at Fresco were so easy to communicate with . Re installation quick and we are happy customers
Response from the ownerThanks Marie-Christine, glad we could help keep your canopy looking great.😁
Eugene Mamauag
★★★★★
My wife & I was very happy with the outcome of the installation. Was professionally done. Thanks to Steve, Richard and the other guy who did the installation. Good job guys.
Response from the ownerThanks so much Eugene, we really appreciate the feedback!
Judith Giddy
★★★★★
This project was completed within the time frame agreed to and according to quote and plans. We are extremely happy with our dealings with Mathew Barker especially his knowledge of the product, his communication, and his ability to solve any problems. At no time did we have any doubts about proceeding with the project once we decided to proceed. The guys installing the frame, curtains and canopy also knew what they were doing, were efficient, polite and a pleasure to deal with. As a result, this made the installation and finished product an exciting and enjoyable process. We are very impressed and happy with the final product. Would recommend to anyone wanting a high quality product.
Response from the ownerThanks so much Judith, we really appreciate the lovely feedback, and hope you have a great summer under your new outdoor room!
Pete Harris
★★★★★
We live in a rural area and fresco were more than happy to come and give us a quote. We had several other companies come out but they seemed to be less than happy to actually do the job and seemed to find so many obstacles to make it harder and more expensive. Richard from fresco suggested some ideas and then gave us a quote. He discussed this with the designer and came up with a better design to suit our house and it was actually a bit cheaper. They came and installed the roof at the time they said and were easy to communicate with through out the process. Today they installed the curtains and I cannot speak highly enough of the whole process. From quote to installation was seemless and professional. Even cleaning up was awesome. Love our new room and we should have done it years ago. Thank you all so much.
Response from the ownerThanks so much Pete, awesome feedback and we're delighted everything went smoothly with your project. We hope you enjoy your new outdoor room for many years. Now roll on summer!
Lloyd Ries
★★★★☆
Good showroom, staff very helpful with good product knowledge
Response from the ownerThanks Lloyd, we appreciate the feedback!
Lisette Young
★★★★★
UPDATE:Fresco Canopy + Christmas lights for the win!We love the effect so much they're now a permanent feature. 3 strings of lights that can be controlled independently, so we can light to match the mood.Nga mihi nui***********Huge thank you to the team who put up our canopy a few weeks ago.What a massive difference it has already made to the way we live! We've spent more time on the deck these past weeks than pretty much the rest of the year. It keeps us sheltered from blazing sun or sudden showers (typical Auckland weather) - all the benefits of being outside without the downside. The dogs thinks it's the best!Props to Gary who did an AMAZING job with the clear curtains!It was a big job under a blazing sun and he worked really hard to get the job done.We really appreciated the great clean up job both crews did too. It's the attention to detail that makes all the difference.We are LOVING IT!!! Wish we had done this sooner.Ka kite ano. We'll be back for the final end piece and curtains early next year (in time for winter!)
Response from the ownerThanks so much Lisette, and we are stoked you are getting such good use out of it. Yes dogs and cats love the shade too! Have a wonderful summer in your outdoor room.
Keith German
★★★★★
I felt I should write this review although I only paid my deposit yesterday and we will wait for our install. We have since found out two of our friends have had it done already with this company and both extremely happy.Richie who came to our home and helped us work out a tricky design, came up with a brilliant way to give us more outdoor area in a small townhouse environment.The company is excellent and have a proven track record over 20 plus years experience. Very professional, looking forward to the finished job now.We had four companies to quote and see our home, it was not a good experience no follow up and confusing pricing, Richie was the third one to visit and the best that's why we confirmed our order with them.Thanks for your professionalism. Regards Keith
Response from the ownerThanks Keith for sharing your experience and I will pass on your feedback to Richie! We hope you will be very happy when your canopy is installed. Meantime thanks again for the lovely comments. 😍
Susan Swart
★★★★★
Great product, the canopy is very nice and side curtains so neat and well done. Great service too. Recommend.
Response from the ownerThanks so much Susan, we really appreciate the feedback! Enjoy your new outdoor room. 🙂
Butch Rothman
★★★★★
The canopy has been installed and we are still waiting for the shades to be installed. At this point we are over the moon with the quality of the product and the quality of the work of the installation team. We are so glad that we chose Fresco to do the job. Friends and family who have seen it are all very impressed with the briliant outdoor space that we now have. Thank you Fresco.
Response from the ownerThanks so much Butch for your kind words, wishing you many happy times with your Fresco outdoor room!
Terry Chandler
★★★★★
Richie and the team at Fresco Shades were wonderful to deal with throughout the build process and the finished product reflects their award winning workmanship.
Response from the ownerThanks Terry, and thank you for uploading the photo too - it looks great! Wishing you all the best with your lovely outdoor room.
Richard Supple
★★★★★
Good example of product and workmanship to view on-site. Good information available in a number of forms pictures catalogues etc solid history and award winning designs
Response from the ownerThanks so much Richard, feedback like this makes our day! 😁
Ronald Williams
★★★★★
Installed fresco shade with full enclosure recently. I must mention Oliver from Fresco in the North Shore. He is such a pleasant and knowledgable salesperson. His service has been awesome from the start right through to the installation . He also went out of his way to fix a small problem to our satisfaction . Fresco and Oliver was also helpfull to resolve a small leak that appeared after a few months. Awesome service from Oliver combined with the quality products from Fresco will ensure that i can enjoy my outdoor area for years to come . Thanks guys . I highly recommend Fresco .
Response from the ownerThanks so much Ronald for taking the time to give feedback, and for your lovely comments. We're so pleased you're happy with the outcome. Wishing you all the best, the Fresco team. 🤩
Judi Hart
★★★★☆
Really like their product. 👍
Response from the ownerThanks Judi!
Romana Hokoza
★★★★★
One very very happy customer! Prompt response to my issue, which turned out that it was not related to the canopy itself but my dirty gutter. Very professional! Thank you very much Richard and colleague for handling the whole issue professionally. Thank you Fresco Shades for a job well done! I am enjoying the shade every moment, come rain, come sunshine.
Response from the ownerThanks Romana, I'm glad we were able to solve the issue quickly!
Gayle Moyle
★★★★★
Response from the ownerThanks Gayle, much appreciated! 🙂
Lynn Brumby
★★★★☆
Very helpful.
T Chia
★★★★★
Really pleased with Fresco Shade's professionalism and responsiveness. Installation and after sales support have been great!
Response from the ownerThanks so much for your feedback! 🙂
Jen Harvey
★★★★★
The room looks great!! We have been really impressed with the entire process and thank you for everything - it has been far too easy which has been great!
Response from the ownerThank you for being such wonderful customers! Enjoy summer under your new outdoor room. 🙂
Ann-Marie Anderson
★★★★★
Thank you for installing the structure today. Even without the sides we love it. So happy we went with your company especially as we had an angled deck. Thank you so much for supplying a great product and within your promised timeframe.Your efforts are much appreciated
Response from the ownerThanks so much Ann-Marie, enjoy your canopy this summer!
Get a free quote
One of our sales reps will visit your home or workplace for a free, no obligation quote. Within a few days we will come back to you with a quote. Times vary, but please allow up to 45 minutes for this visit.