Whether relaxing or working, picking the right indoor plant can help transform your indoor space into the perfect retreat
Adding a splash of colour to liven up your indoor rooms doesn't always necessarily need to involve paint or expensive decor. Getting the right mix of houseplants can not only revitalise your home but bring health benefits too, including air purification, keeping temperatures low, reducing airborne dust or even increasing humidity. Perhaps least surprising positive is the fact that greenery is proven to enhance relaxation, reduce stress and put us at ease in our surroundings, making for the perfect environment to wind down. Bright and airy or snug and cosy, there is a plant for every type of room (and owner!).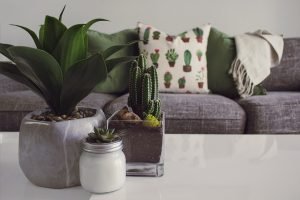 What Do I Need To Consider When Choosing an Indoor Plant?
1. How Much Light Will My Indoor Plants Need? 
Considering how much natural light your plants will get is important to help their survival, especially during the Kiwi winter months! Choosing houseplants that require low levels of light often increases the chances of survival, but remember to protect them during spring / summer from prolonged sunlight. If a cactus or succulent has caught your eye these require almost continuous daily sunlight, whereas the climbing Philodrendron is perfect for low light situations.   
Indoor Plants Ideal For Low Light Rooms: 
Anthurium – bright colours give this plant an exotic appearance
Zamioculcas zamiifolia (or ZZ Plant) – low maintenance and ideal for those who forget to water 
Philodrendron – perfect for a tropical splash of colour 
Sun-Loving Plants: 
Ficus lyrata (or Fiddle Leaf Fig) – a larger variety that requires plenty of sunlight, so perfect for a conservatory or canopy awning that is north-facing 
Cactus – ALL varieties of cactus thrive in direct sunlight so take your pick!
Geraniums – almost all varieties are a sun-lover, with the Martha Washington type specifically appreciating a long summers day
2. What Will The Temperature Be In My Indoor Space? 
Not all indoor plants are hardy enough to survive a Kiwi winter, especially if you are conservative with the central heating or have a room that is south-facing! Picking a plant that aligns to the year-round room temperature will increase the chances of it flourishing and limit your trips to the garden centre!
Indoor Plants That Flourish in Warm Temperatures: 
Wax Plant  – ideal for the inconsistent waterer and those liberal with the thermostat!
Cacti and Desert Plants – not surprisingly a plant variety that prospers in hot and dry conditions, they will love warmer indoor spaces 
Aloe – hardy is an understatement for this variety. Perfect for dry conditions, Aloe with flourish in heated spaces but also love sunbathing. However, be warned – although ideal for the neglectful waterer, it does not wilt so the soil needs to be checked to see just how long it might have left! 
Indoor Plants That Don't Mind It Chilly: 
Aglaonema (Chinese Evergreen) – okay in low-light and cooler temperatures (but do need plenty of water) 
Clivia  – a plant that thrives in low-light, chilly (even drafty) spaces
Cast Iron Plant (Ballroom Plant) – the ultimate perreninal. The name reflects this plant's will for survival!

3. How Much Care Do They Need? 
Let's be honest – we aren't all blessed with a greenthumb! If your gardening skills end with a weekly watering then this doesn't automatically mean that indoor plants are not for you. 
High Maintenance Indoor Plants: 
Maidenhair Fern – loving humidity and plenty of moisture, this NZ native is ideal for the over-waterer who isn't adverse to providing a mist 2-3 times per DAY! 
Aphelandra Squarrosa (Zebra Plant) – Although an interior designers dream, the Zebra plant is temperamental, requiring a constant temperature of 70F and closely monitored soil moisture (are you up to the challenge?!)
Orchid – Not for the faint hearted, orchids require direct sunlight and watering once per week. However, too much of either will cause problems 
Low Maintenance Indoor Plants: 
ZZ Plant – featured again – perfect for low light and beginners who may need a trial run!
Devils Ivy – known for their relentless growth, Devils Ivy can easily propagate from cuttings so are a cost effective choice 
Spider Plant – the quintessential indoor plant, can tolerate long durations between watering, can thrive in both light AND dark environments 
What Would Be The Right Indoor Plant For My Canopy Awning? 
When choosing an indoor plant that will thrive in your canopy awning we would recommend considering the following Qs:  
1. What type of heating will you choose for your awning? Keeping the awning nice and warm all-year-round means a more delicate indoor plant would work well in this space. 
2. Will the awning get plenty of natural sunlight? If the canopy awning captures the midday sun effectively and is north-facing, a low light variety that prefers a cooler climate may not be the best option. 
For a relatively cost-effective and fool-proof start, we would recommend the ZZ Plant & Spider Plant. 
The Final Word
Tailoring your choice of plants to best match the conditions of your home can help you achieve the indoor space you've always wanted. Whether you create your own indoor rainforest or desert savannah, following the above tips will help your oasis thrive!