Finding it tricky to choose an outdoor structure that best transforms your outdoor space?  We compare canopy awnings & pergolas to help you decide!
When it comes to designing your perfect outdoor space, there are a whole range of structural options that can match your needs all year round. Both a canopy awning or pergola can extend your relaxation and entertaining space whilst increasing the value of your home. But which option is right for you?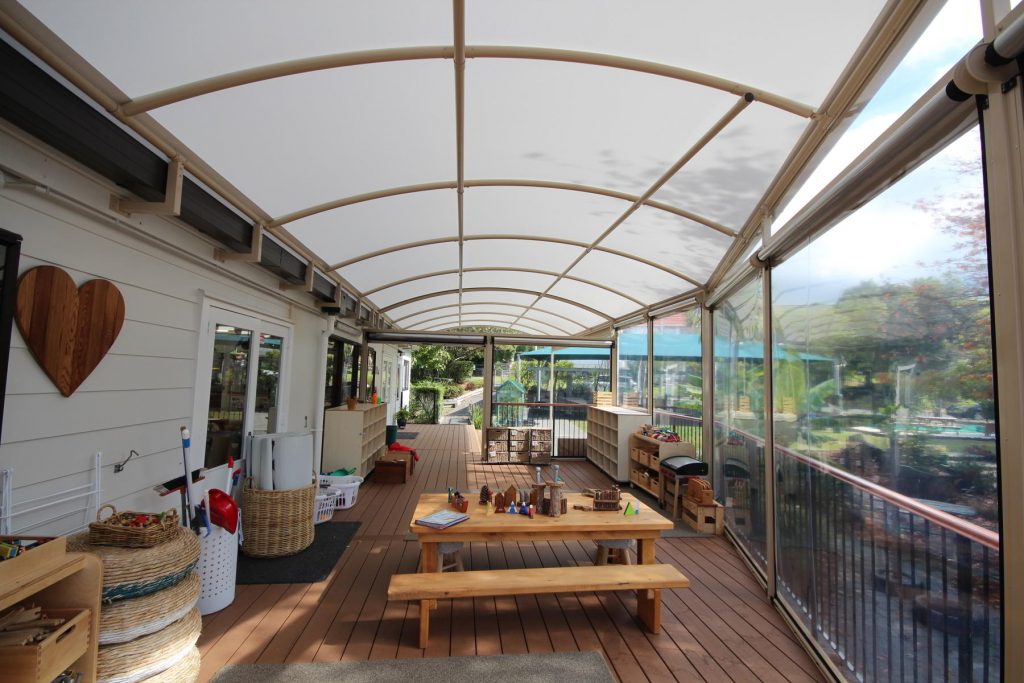 What is the Difference Between a Canopy Awning & Pergola?
Pergolas are usually a free-standing permanent structure most commonly constructed using wooden posts, beams and rafters. Traditionally uncovered with a lattice roof, trained woody vines provide a natural canopy that is ideal for creating shade. More modern approaches have seen pergolas adapted to include lightweight aluminium framing and synthetic roofing made from poly-carbonate, blocking UV rays to provide a safer, cooler shade. Although providing shelter from rain, traditional pergolas are more suited to the summer months due to their lack of walls. 
Canopy awnings provide a more enclosed space through incorporating PVC blinds / curtains, static panels, louvers, doors and steel framing to truly add an additional room to the home. Similar to a conservatory, canopy awnings provide a more covered space vs. a pergola & subsequently are renowned for all-weather entertaining. They can be attached to an existing building or be free-standing.
Which Structure Is Right For My Home?
1.Temperature Control 
Due to their airy, wall-free design, pergolas are ideal for the warmer months spent lounging in the back garden but subsequently hold little heat, even when an outdoor heating option is used. Canopy awnings incorporate passive solar design (using the sun to heat & cool the room) by combining the option of removing the walls (using outdoor roller blinds) and roof (by utilising the automatically retractable roof). Both can be quickly extended or retracted to maximise airflow or protect from the elements. Expansive in their design, Canopy awnings allow plenty of light into the room whilst filtering harmful UV rays, protecting your furniture and you. Heating a canopy awning is also easier and cheaper vs. a pergola, with the option to fully enclose the space meaning you aren't battling with a creeping draft. Both structures do provide flexibility when choosing heating options too, due to ample ventilation from retracting the roof (although traditional pergolas tend to not feature this technology).  
Thinking of buying a conservatory? Compare the pros & cons to a canopy awning here. 
2.Flexibility of Design 
If you intend to use your outdoor structure all year round – whatever the weather throws at you – then the ability to adapt your chosen structure is paramount. Both pergolas and canopy awnings have come on leaps and bounds in new material technology, with both providing a retractable roof to flex to rain or shine. As mentioned previously by their design free-standing pergolas are lofty and predominantly a summer structure, entwined with flowers and fabrics to create an almost romantic and Mediterranean aesthetic. However, this design means they often fall short when providing shelter for cooler autumn breezes or outright freezing winter temperatures. There is the option to attach fabrics to create walls, but these are unlikely to offer much resistance to winter weather and have low efficacy in trapping heat. On the flip-side, roller blinds or curtains fitted to the canopy awning provide a rain and wind-proof enclosed shelter  – extremely important if the space is earmarked for year-round BBQ and cook-outs. 
Placement of traditional awnings was often limited to extensions on existing structures. However free-standing capabilities now mean canopy awnings can be constructed as an independent structure completely separate from the home, for example providing a flexible shelter for a swimming pool.  
3.Maintenance 
Traditional pergolas are constructed from wood, often high pressure treated, which can warp crack or even move in unintended directions when exposed to different weather. Over time using climbing plants, such as Devil's Ivy or Creeping Hydrangea, to provide shade damages the structure, meaning replacement and re-painting. More modern fibreglass frames usually cost 2 to 3 times more than traditional wooden options. 
By design canopy awnings are low maintenance due to utilising robust PVC and powder-coated aluminium and galvanised steel. The Frame, curtains and roller blinds only need cleaning every 3-6 months with the process being quick and simple. The retractable roof is also windproof up to 150kph – making it the strongest retractable roof on the market!
4.Do I Need Council Consent?
Broadly speaking any building work that results in structural additions or changes will require upfront  council consent. Therefore for the construction of a canopy awning or pergola that is attached to your home we would recommend seeking council consent before beginning the project. For free-standing pergolas and canopy awnings it is less clear, although we would recommend seeking council approval and informing your neighbours before commencing work.
If you choose to transform your outdoor space with a canopy awning, we can help with the process. Get a quote today.