Built To Last, Our Precontraint PVC-Coated Roofs And Curtains Have A Life Expectancy Of Over 15 Years. But What Makes This Material So Durable?
Selecting the right materials for your construction project – big or small – is fundamental in making sure it is built to last. Canopy awnings are no exception – especially when you consider the demand on fabrics when tensioned for roofing or fitted as outdoor curtains or blinds.That is why we use state-of-the-art Ferrari Precontraint Architectural grade PVC, designed and manufactured specifically for tensioned roof applications. When it comes to combining durability, design flexibility and longevity it is unparalleled.
What is PVC?
PVC – or Polyvinyl Chloride – is a synthetic polymer first created in the 19th century. The most commonly manufactured PVC is rigid, white and often used for doors and windows. Alternatively it can be made flexible through the addition of plasticizers, increasing its application scope to electrical wiring, artificial leather and flooring.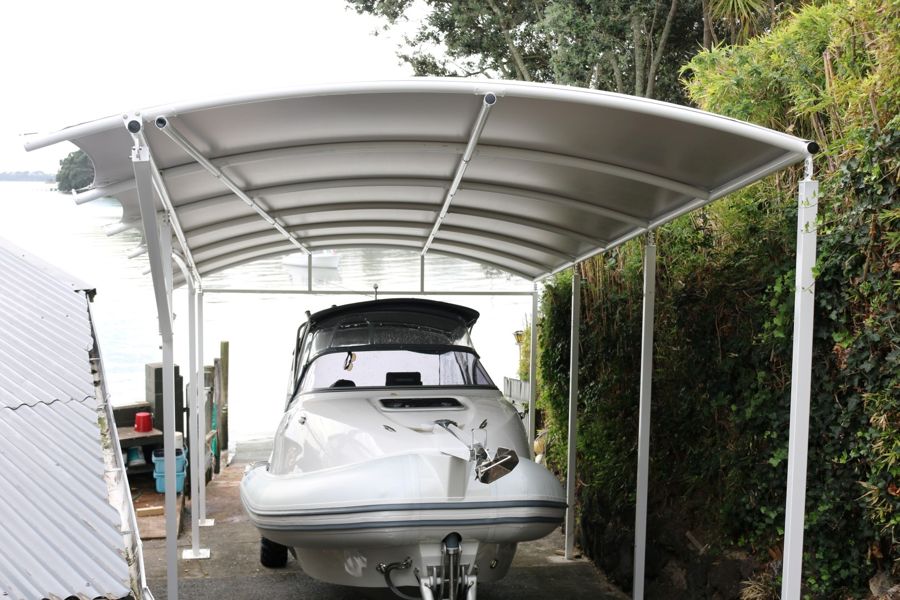 What is Precontraint PVC?
Precontraint ( or "pre-stretch") technology ensures that PVC-coated fabrics do not stretch (or "creep") when tensioned. This means our canopy awning roofs and curtains keep their intended shape – come rain or shine. It's durability and strength is derived through the manufacturing process, utilizing a unique multi-layer method which results in a vastly superior life compared with conventional materials. The outcome is a lightweight and flexible composite membrane that has superior dimensional stability vs. rival materials.
What Are The Benefits of Using Precontraint PVC For Awning Fabrics?
Unique coating technology that limits the build-up of dirt and microbe growth
Noise reduction when it is raining vs. a traditional poly-carbonate roof. Unlike a poly-carbonate roof PVC does not expand and contract on hot days, eliminating distracting creaking noises
100% waterproof material that can withstand strong winds and rain
Extremely hard wearing and durable
Ideal for keeping spaces cool in the summer through filtering up to 95% of the sun's glare
Sun-safe technology that filters 99% of harmful UV rays  – protecting your family, pets and furniture
Choosing a semi-transparent white means only a marginal loss of natural light  – even during the winter months
Can You Wash PVC?
Although the Precontraint PVC utilizes a specialised coating that is designed to limit maintenance, we would recommend cleaning PVC roofs and curtains every 3 to 6 months (depending on exposure to pollution, bugs and airborne salt). A garden hose, soft brush and mild household detergent should be more than adequate to keep your canopy awning in top condition.
Browse our awning cleaning guide for more detailed instructions.
Don't fancy cleaning your canopy awning yourself? We also offer a full canopy awning cleaning service – including both the PVC and frames. Click here for a free no obligation quote.
Precontraint PVC In Action
Residential Case Study: How our reverse sloping canopy intricately transformed a once windy space into an extra room
Commercial Case Study: How Motat Cafe tripled their dining capacity whilst retaining the unique character and ambiance of a 100 yr old building
Need More Information?
For design inspiration and robust constructions that will reinvent your outdoor space please contact us on 0800373726 or online.