We were first approached by Motat late in 2016 to help them create an all-weather entertaining space next to the century old building, Cropper House. The canopy was to cover an area adjacent to a narrow verandah, which lead onto a courtyard and steps down to a lawn. Motat wanted to get more use out of the courtyard area as their main dining areas were upstairs and formal, so limited in their use. Originally the plan was to attach to the building, and dig posts into the ground. Until we discovered the building was definitely not strong enough to attach to, and the ground was volcanic rock that required specialist equipment to break through!

The story behind this project was about the difficulties of working with a building that was over 100 years old, and ground that was hostile, while trying to come to a compromise with engineers and even geotechnical engineers, while satisfying the council. The planning behind this project was massive, and the plans changed as we realised the implications of trying to create large holes in the ground, and tried to work around various solutions that would keep both the client, the council and the engineers happy. As design discussions unfolded, the geotechnical engineer had specified we needed to dig large (2m) holes in the lava rock to concrete in the posts. This would have entailed bringing in specialists with heavy duty equipment and there wasn't space for the machinery – this was almost a deal breaker, not to mention a budget breaker. Compromise was required; we came up with the idea of laying a thick concrete base over the patio, and attaching our posts to this, hence avoiding any digging. Eventually the engineer agreed, and the client was happy as this gave them a better flooring area.
The canopy was now free standing with posts mounted to the concrete patio. Our design had to work around some steps so that the entire area could be enclosed, which required a lot of extra framework and detail to make this work. The installation came down to the wire after months of planning and debating solutions – the project was completed one day before a major function was booked. While this was a stressful and challenging project, we worked with the client every step of the way to ensure the design worked for them and came in on budget.
The new dining area has meant the restaurant has tripled their dining space, they now have an all weather outdoor space for functions such as weddings, meaning guests can flow from a garden wedding onto the covered veranda which is lit by fairy lights at night to add ambiance. Motat are amazed at how this canopy has changed their business and how it somehow works with an old building. It has literally given the building a new lease on life. Possibly had we known just how hard this project was going to be, how long it was going to take and how many man hours of design and negotiation, we would have walked away. However it does prove that with a bit of thinking outside the box, and a lot of patience and perseverance, you can make a project like this possible. We have been told the client now wants more canopies around the complex, this time we will go in with our eyes open!
Summary: Motat briefed us to create an all-weather entertaining space attached to a century old building. This was a story about the difficulties of working with a building that was so old and fragile, initially tasked with drilling volcanic rock, while trying to come to a compromise which satisfied engineers, geotechnical engineers, the client and the council. The result has given the old building a new lease on life and greatly boosted Motat's catering business.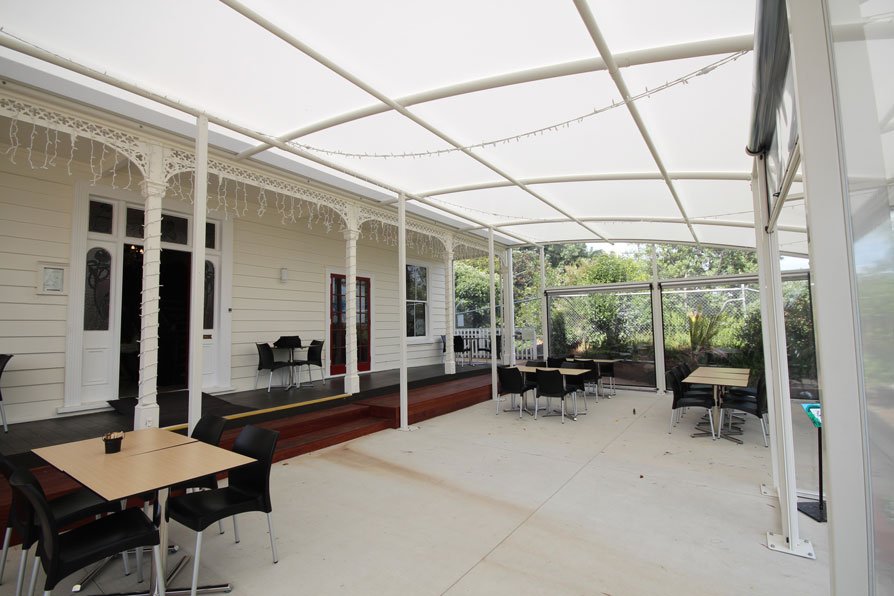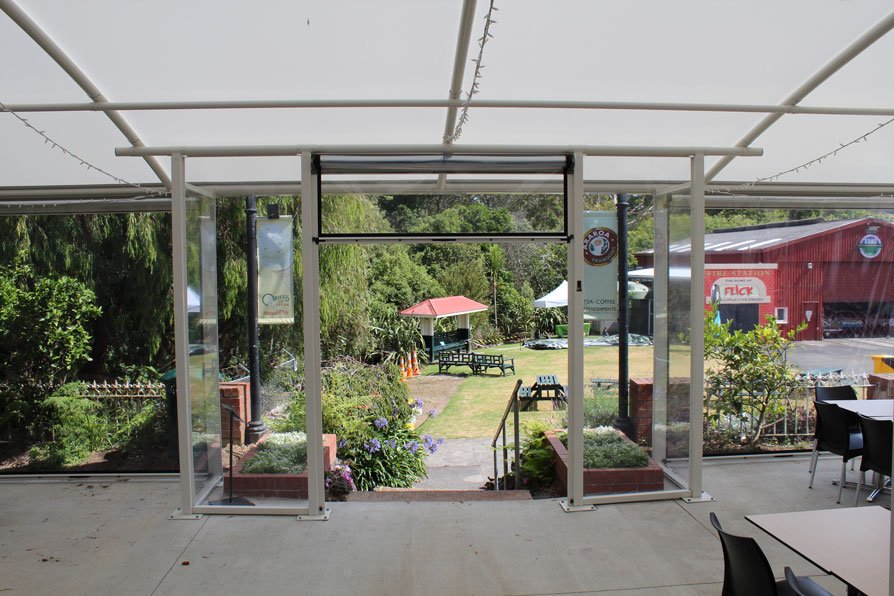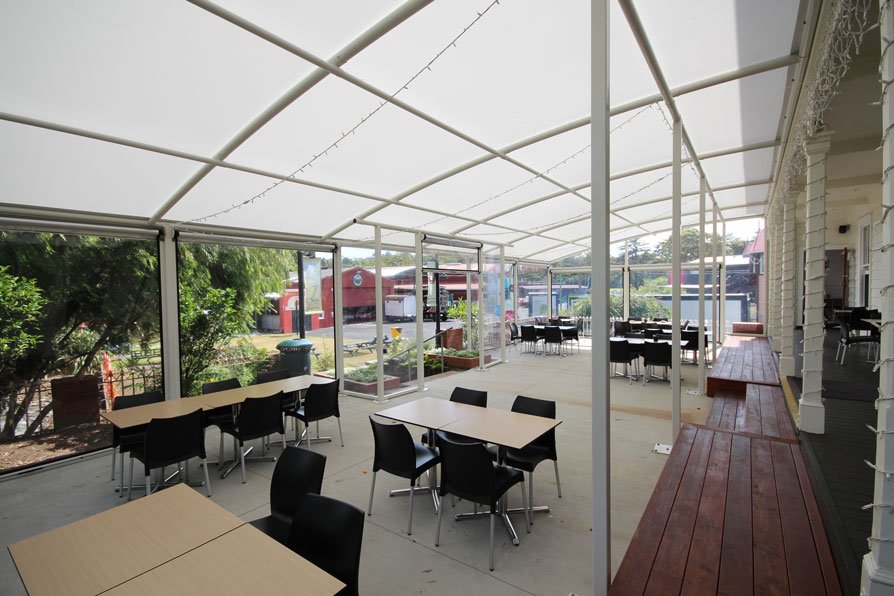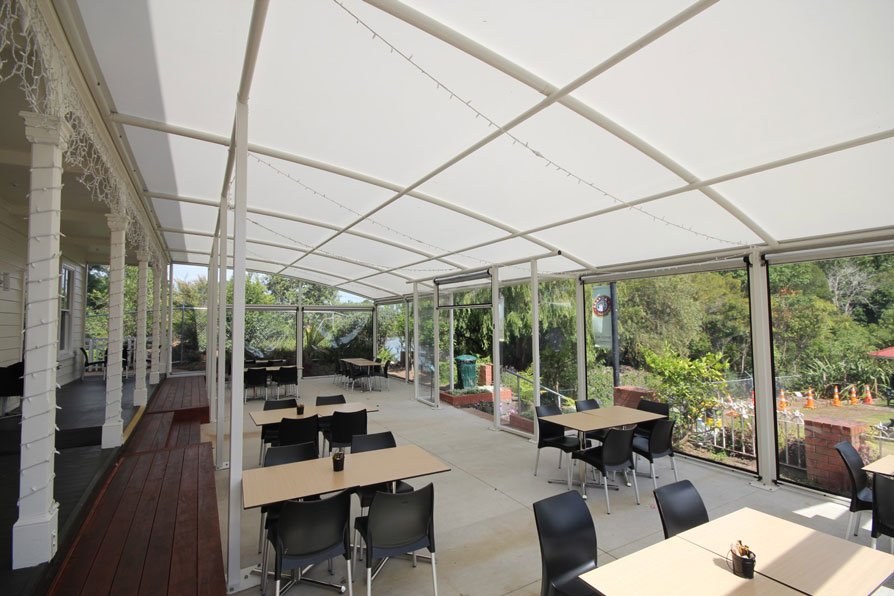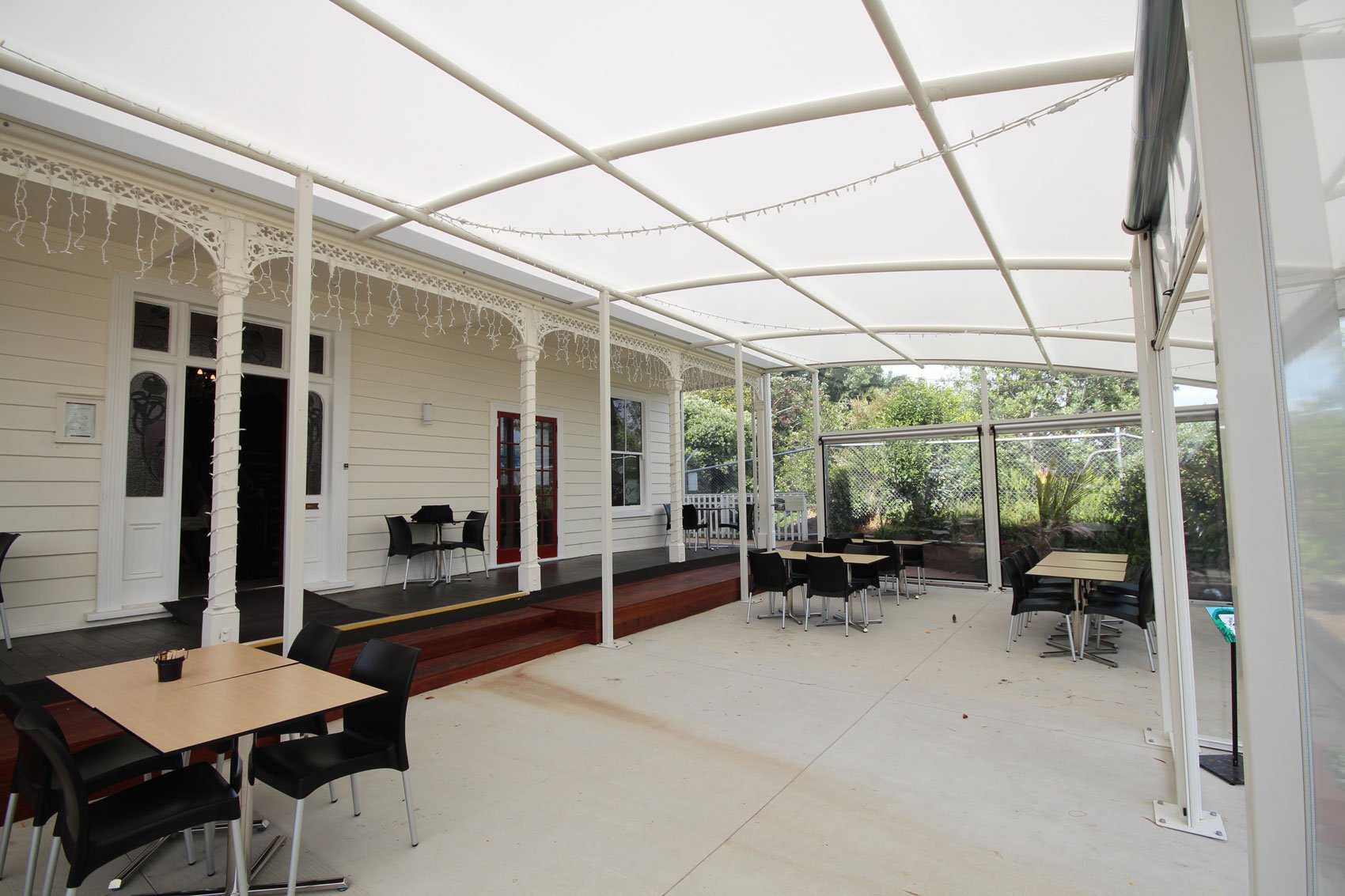 View more commercial & hospitality case studies
Get A Free No Obligation Quote
One of our sales reps will visit your home or workplace for a free, no obligation quote.Our reps will look at your situation, measure the space and advise how best to proceed. They will show you some fabric samples and steel colours, and discuss side screen options. Within a few days we will come back to you with a quote.