2018 International Achievement Awards (IAA) - Residential Awnings & Canopies
Our client had a modern house in a very windy spot, so windy they rarely used their outdoor space, let alone their new outdoor fire. Their brief was to create a sheltered area between the fireplace and the house, so they could enjoy this space and block the wind. While small in area, this job required enormous attention to detail and creative solutions.

Our designers had to work hard on this one. This was a reverse sloping canopy that was highly customised. Among other challenges, we had to fit around a large sloping eave, work around brick columns which were obstacles for the curtains, and seal our canopy against a brick chimney. In order to fit around the fireplace we used large amounts of framing, also underneath the roof extension. Angled framing was cut to fit the existing structure – and polycarb fillers were used to plug the gaps so no wind made its way in.

Getting the curtains to fit was a struggle working around the existing posts, while stretching the fabric over the frame right beside a chimney was not a job our installers enjoyed! Our most experienced installer spent many hours making this canopy work, but the end result really impressed the customer.
We turned a little used space into an extra room, and enabled the customer to use his fire and use the space regardless of the weather. The project was so successful that the customer can now keep his ranch slider open to the outdoor area all day, knowing that the area is now weather proof and a true extension to his home.

Award
2018 International Achievement Awards (IAA) – Residential Awnings & Canopies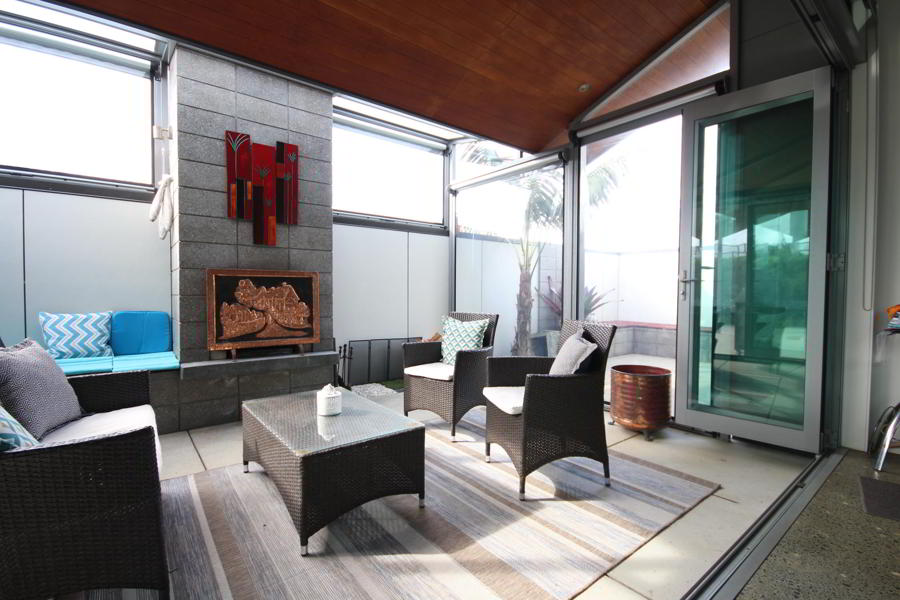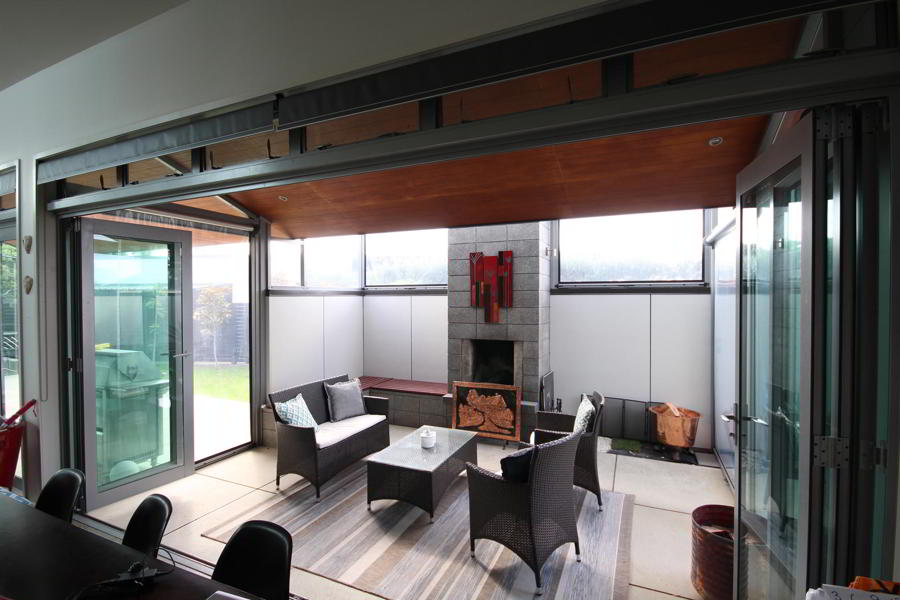 View more customer case studies
Get A Free No Obligation Quote
One of our sales reps will visit your home or workplace for a free, no obligation quote.Our reps will look at your situation, measure the space and advise how best to proceed. They will show you some fabric samples and steel colours, and discuss side screen options. Within a few days we will come back to you with a quote.