Te Ara Kindergarten Canopy

Te Ara pre-school wanted an all weather structure for the children to play under. They had been short on space, and particularly on rainy days needed more options for activities. A further concern was shelter from UV rays. The existing shade sails were not providing them with the protection needed. This project was complex due to the shape of the building. Additional engineering design was required to allow the structure to span over a section of the roof. The sloping sofits meant a redesign to create special angled brackets. Because of the size and shape of the building, extra arch bracing was required for strength. Extra large footings were required, and the galvanized steel frame had a special Abcite Thermoplastic coating to prevent the corrosive sulphuric atmosphere in Rotorua.
An additional challenge was the necessity of working around the existing playground equipment! The connection system used for the job enabled completion in two days with only 3 installers. We were pleased with the innovative modification to a boat trailer that enabled transportation of the materials in one load without damage.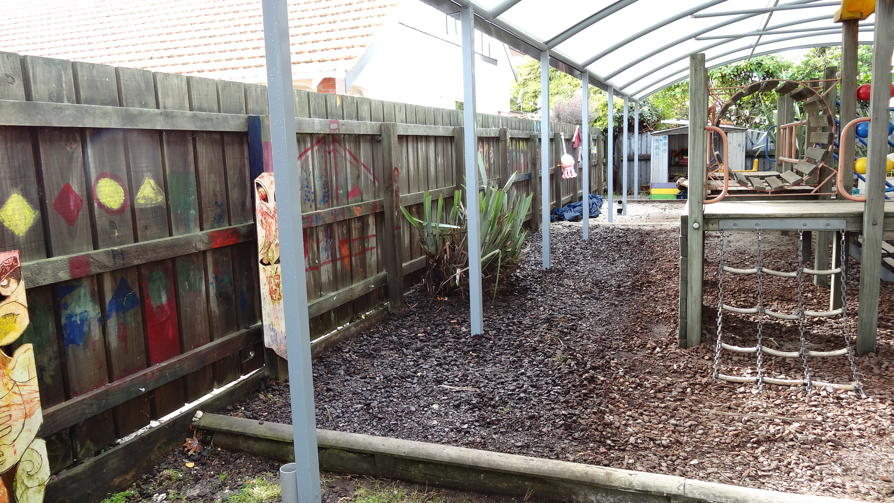 View more school & kindergarten case studies
Outdoor Play Areas Your Students Can Use All Year Round, In All Weather
One of our sales reps will visit your school or kindergarten for a free, no obligation quote.Our reps will look at your situation, measure the space and advise how best to proceed. They will show you some fabric samples and steel colours, and discuss side screen options. Within a few days we will come back to you with a quote.