OFPANZ 2015 Award For Excellence – Tension Structures & Canopies 51-100 sqm

Torbay Kindergarten is part of the Northern Kindergarten Association; they have a number of kindergartens that are of significant age. Built approximately in the 1950s, Torbay is their oldest.
The main objectives of the project were:
1 – Replace an old and decrepit pergola that was offering very little protection from the elements
2 – Produce more all year round usable space to cope for a capacity role
3 – Give the old kindergarten an architectural/ contemporary face lift that would compete with the private day care sector. Visually there was a need to tie a brand new structure into an old building so that they complemented each other; simply tacking on a standard item was not going to suffice. After much thought it was settled that the new structure would be a modern design with modern colours that would read separately to the existing building. By creating a striking contrast, everyone agrees the old kindergarten now has a more historic feel and works extremely well alongside the new canopy
Technically there was plenty to challenge the team. The entry to the old building was relatively low, and with a standard arched or gable end canopy not an option, the new canopy had to open up away from the building. The old building had no plans, meaning the existing structure could not be relied on to support the new structure, a large steel portal was constructed as high as possible and as close as possible to the kindergarten entrance. Heavy lifting equipment was required to lift the canopy up.

Everything is basically freestanding which called for a new concrete strip footing along the front of the canopy. In addition, staff requested the area be as weather proof as possible, which entailed a lot of detailed sealing around gutters and downpipes.
Having the last of the old pergola roofing destroyed in the Auckland June 8th storm, there was a lot of pressure to get the job designed, engineered, into council and built as soon possible. All the while doing our best to meet the association's budget given "belts and braces" engineering that kept pushing the price up. Innovative thinking and keeping all the work (bar the concrete) in house allowed us to keep the cost to an acceptable level, which was a significant challenge. Environmentally the canopy draws in much needed direct autumn and winter sun, but also creates a buffer zone for the old badly insulated kindergarten, reducing heating bills over these months.
Award
OFPANZ 2015 Award For Excellence – Tension Structures & Canopies 51-100 sqm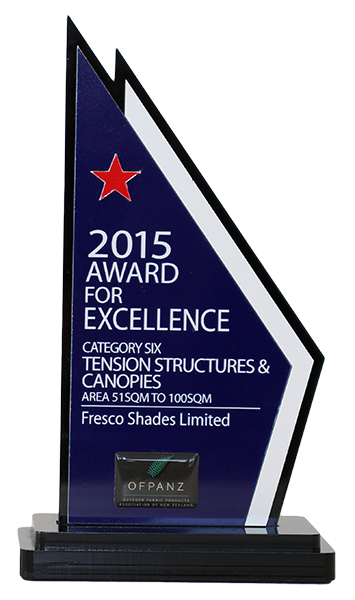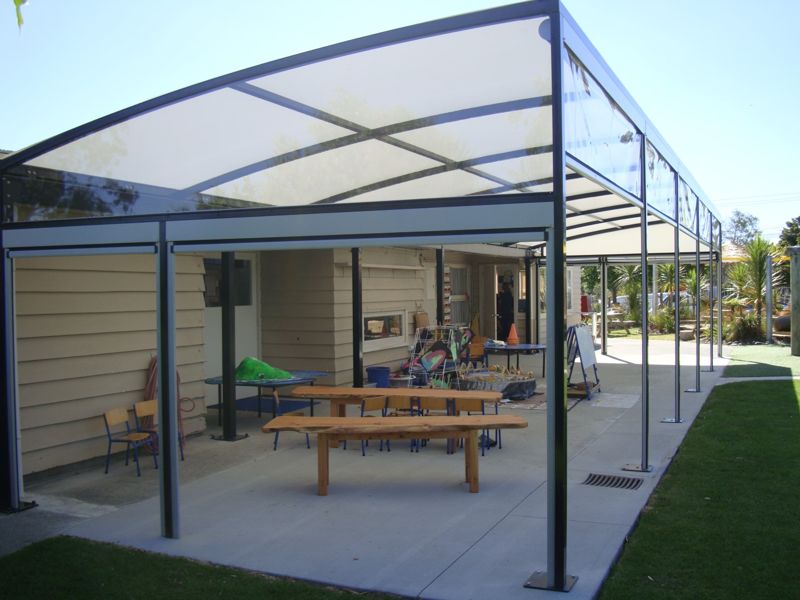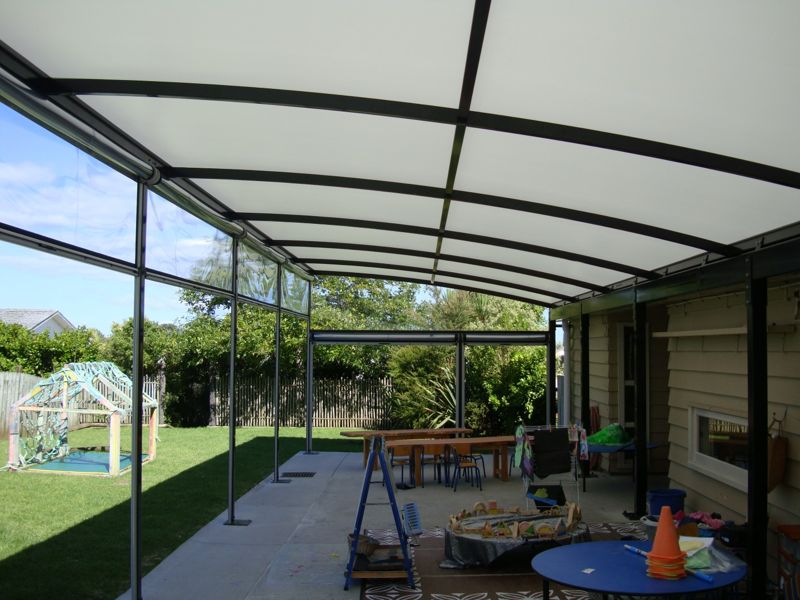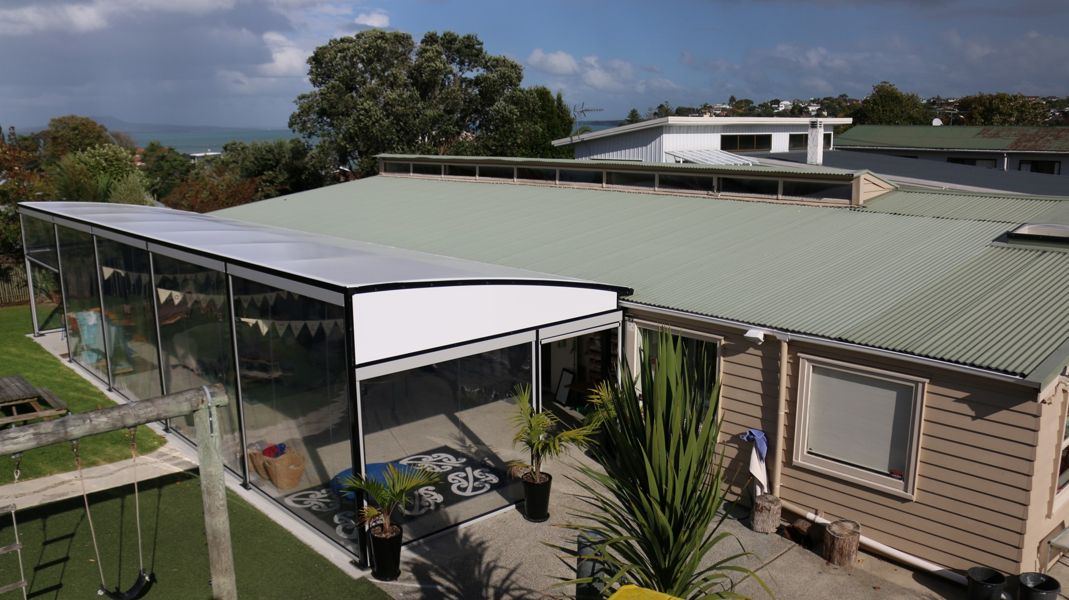 View more school & kindergarten case studies
Outdoor Play Areas Your Students Can Use All Year Round, In All Weather
One of our sales reps will visit your school or kindergarten for a free, no obligation quote.Our reps will look at your situation, measure the space and advise how best to proceed. They will show you some fabric samples and steel colours, and discuss side screen options. Within a few days we will come back to you with a quote.