Highly Commended - OFPANZ 2020 Awards
Tension structures and canopies <50 SQM
The client had just moved into this new house and with the new high-density dwelling situation, there wasn't much outdoor space and privacy was a big issue. The only space available was narrow and it was spread along 3 sides of the house. The customer built a deck all around the house, and requested a design to achieve maximum cover, given the complex area. The canopy needed to have retractable screens and a hinged door for access to a spa pool outside the canopy.
The most complicated part of the job was the building material we needed to attach to. Being a modern design, multiple types of cladding were used, with walls comprised of cedar, pine weatherboards and schist. To add more complexity, the walls stepped in and out. Our designer measured the job and designed everything in CAD making sure every detail was correct and precise. Attention to detail was critical. Meanwhile the installers were thoroughly briefed about the exact procedures to install the frame and make it weather-tight.
Chan was a past customer and the couple had a lot of faith in us to once again come up with the best solution to cover their area. Fortunately, the final design and installation went smoothly without any issues and we were able to make the connection to the building completely weather-tight. The client was very pleased with the design, privacy and coverage they now had, and with the resulting extension to their usable space. Even their dog was impressed, he was given his own dog door through the canopy door.
Highly Commended 
OFPANZ 2020 Awards – Tension structures and canopies <50 SQM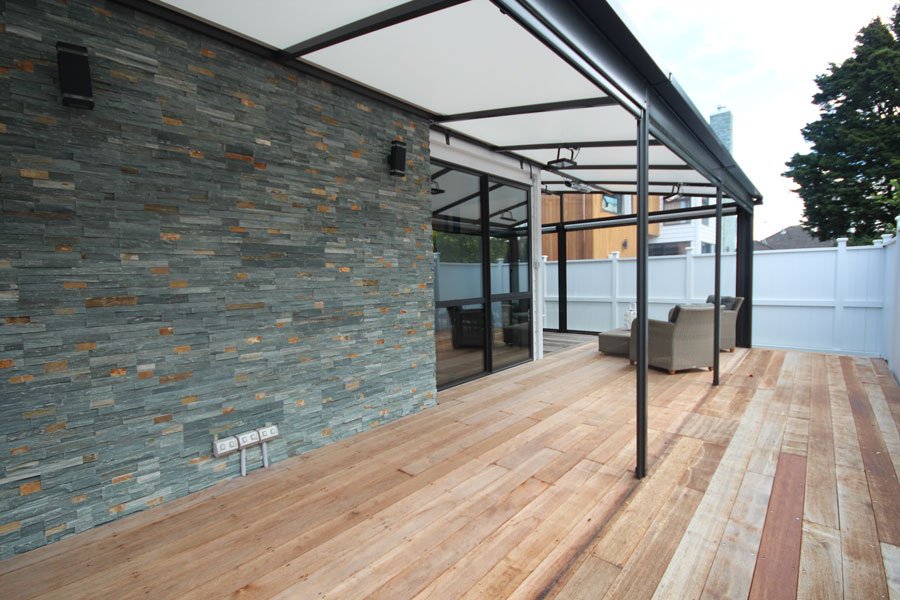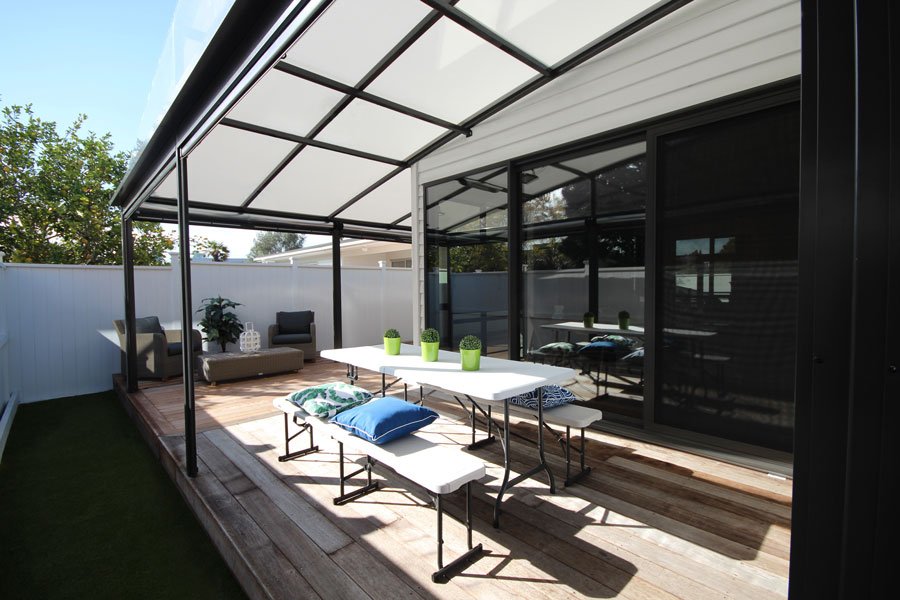 View more customer case studies
Get A Free No Obligation Quote
One of our sales reps will visit your home or workplace for a free, no obligation quote.Our reps will look at your situation, measure the space and advise how best to proceed. They will show you some fabric samples and steel colours, and discuss side screen options. Within a few days we will come back to you with a quote.