Our client had a first floor tiled deck which he wanted to enclose. This was an L shaped deck, but rather than doing a step design canopy, the brief was to make two separate canopies, with a division between, so that BBQ smoke from the smaller deck didn't drift onto the main deck. This project required a bit of creativity to make the "together but separate" canopy idea work, not to mention the physical constraints we were working with Creating two separate canopies that joined up with a divider (internal curtain and internal end fill) was a first, and worked well to separate the BBQ area from the rest.
Access was a nightmare – the deck was up to 6 metres off the ground in places, and had a glass balustrade all around it. The installers struggled moving around the canopy and even to get to the roof involved going to the other side of the house and crossing the roof to get to the right spot
Two types of scaffolding were required, we used our cantilevered scaffolding on the deck as in places exterior scaffolding was not possible due to obstacles. Where possible we also used our mobile scaffolding for the main canopy.
The existing tiling on the balcony was already cracked in places (and possibly leaking already), and there was special waterproofing joining the tiles, so drilling into the deck floor was not an option. Our solution was to create custom brackets to fix the structure to the outer face of the balcony, and avoid the glass balustrade. Some of these brackets had to be angled as part of the wall flared out Special base plates were also needed to avoid blocking the drain.
Our client is very happy with his balcony set up now, and uses the area constantly. The curtain divider worked well to block the BBQ smoke. Further he has referred us to others resulting in 2 other projects through his contacts.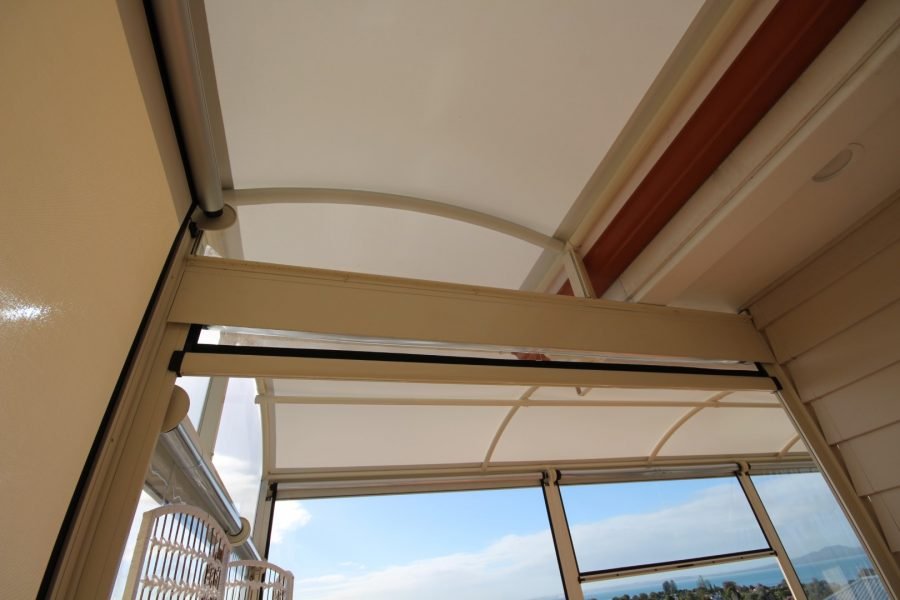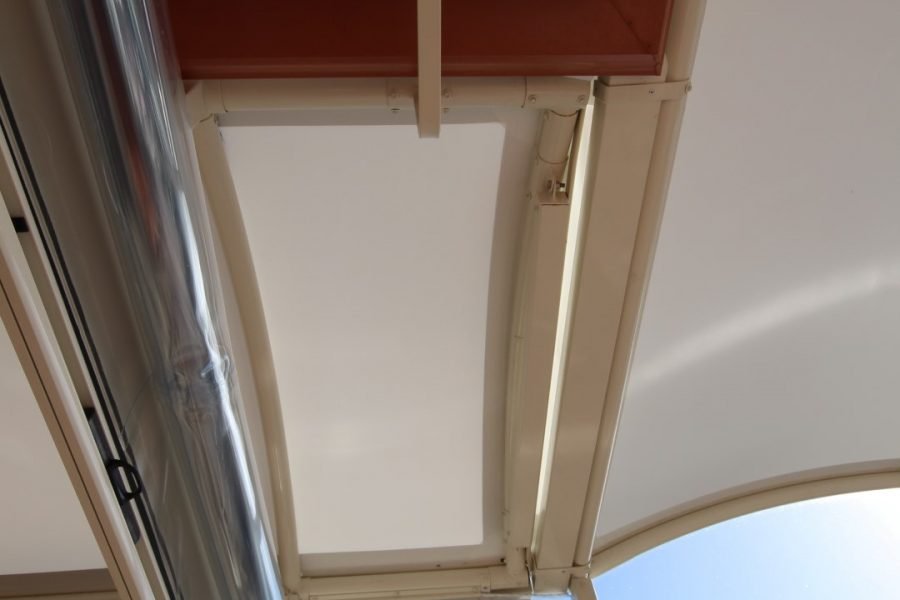 View more customer case studies
Get A Free No Obligation Quote
One of our sales reps will visit your home or workplace for a free, no obligation quote.Our reps will look at your situation, measure the space and advise how best to proceed. They will show you some fabric samples and steel colours, and discuss side screen options. Within a few days we will come back to you with a quote.