Free Installation until July 31st!
Use your outdoor area in all weather this winter with an outdoor canopy room from Fresco.
Get a free quote
Regardless of the weather – or the time of the day – you can enjoy alfresco living in your new outdoor canopy room. Our locally designed concept provides the ideal transition between your indoor and outdoor spaces, or as a covered space for BBQs, play areas, vehicles, spa pools, boats… the list is endless. As an extension to your home, your Fresco room will become your favourite place to live all year round.
Stay dry under your Fresco Shades PVC canopy – which still allows plenty of light to filter through without the harmful UV rays. Your outdoor furniture will look like new years longer than when left in an exposed environment. And any outdoor cushions will stay dry!
Fresco Shades canopies and awnings add space, style and value to your home. There's nothing for you to do, Fresco handle the design, manufacture, installation and maintenance of your Fresco Shade. Fresco can even organise a building consent if required.
Get exactly what you want – Each Fresco Awning is custom designed to suit your specific needs and preferences. Extensions can even be made to existing canopies when there is need for more outdoor space.
Fresco's long lasting, ultra strong galvanised steel frame and world leading PVC cover ensures a robust and stylish solution. Choose from our wide range of fabric and frame colours and canopy options to match your taste or existing scheme.
Fresco's specially designed powder coating plant means a top quality, long lasting finish with no delays while waiting for secondary suppliers. We handle all our own fabrication from our purpose built premises in North Auckland and only use the highest grade steel and PVC materials to ensure strength and longevity.
Maximise the use of your outdoor area by enclosing the sides. We can supply a range of options that will allow you to use your area regardless of the conditions. It really is like creating an outdoor room!
Curtains, static panels, louvers and doors can be added now, or in the future as usage changes or budget allows.Most of the outdoor curtains can be rolled up when not needed – providing maximum ventilation in the summer- and quickly dropped down when conditions change.
Fresco outdoor rooms are the next best thing to a conservatory, but with the freedom to change your canopy to suit the conditions.
Fresco Shades Canopies are available in a variety of different styles to suit. Our most popular arch awning design creates an increased feeling of space; however we offer other designs such as the semi arched or lean-to styles.
Mostly our canopies are attached to your home or building with strong custom made brackets, however they can be made as free standing awnings if required.
Our canopies can be rectangular, square, or even "L shaped" to fit many deck configurations, and come with an option 'end fill' panels to block the wind/rain under the arch at each end.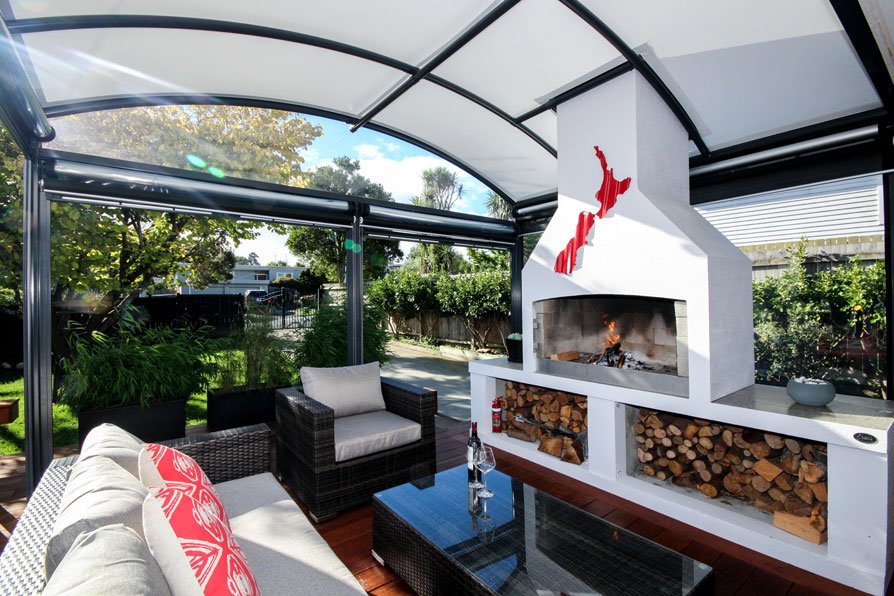 Clear Endfill
Blocks wind & rain
Durable galvanised steel frame
Manufactured and power coated to a colour of your choice
Spring loaded curtains
Allow you to effortlessly adjust curtain to any height for maximum flexability
High quality architectural grade PVC roofing
Blocks heat while letting in plenty of light
Tap or hover on number to expand