Expanding the capacity of your business doesn't need to be an expensive or time consuming project
Sometimes we can be the victim of our own success – especially when it comes to running a business. As careful and considered we can be with forecasting estimated growth, it remains just that – an estimate – and often customer demand outpaces the space we have in our restaurant, shop or cafe. But extending your business capacity does not have to mean expensive building projects that rumble on into months of planning and delays.
Commercial Awnings: The Perfect Alternative To Costly Building Projects
Canopy awnings work perfectly to enclose medium to large spaces that were previously left exposed to the elements. They are an ideal solution for transforming previously weather-dependent spaces into comfortable and safe areas.
Ideal projects for commercial awnings include:
Perfect when looking to provide a safe space to shelter from the elements, including around the school pool, playground, parent pick-up and drop-off points and walkways between buildings. Semi or fully enclosing these outdoor spaces means previously weather-dependent activities can be enjoyed all year-round.
Te Ara pre-school required an all weather structure for the children to play under 12 months of the year. Short on space – especially on rainy days – the existing shade sails were not providing sufficient protection from wind, rain and UV rays. A complex project due to the shape of the building, additional engineering design was required to allow the structure to span over a section of the roof. Abcite Thermoplastic coating was applied to the steel frame to prevent damage from the corrosive sulphuric atmosphere in Rotorua.
Rethink the outside dining experience by having the option to enclose or open a space – whichever the weather dictates. Canopy awnings are also ideal as extra shelter for smokers at night clubs.
Fresco Shades designed and installed a weather-proof canopy awning for La Porchetta that successfully incorporated customised PVC to include a fire door. In fact the whole project was fully customised, from the heavy duty steel frame to the tensioned PVC that provides a seamless extension to the restaurant.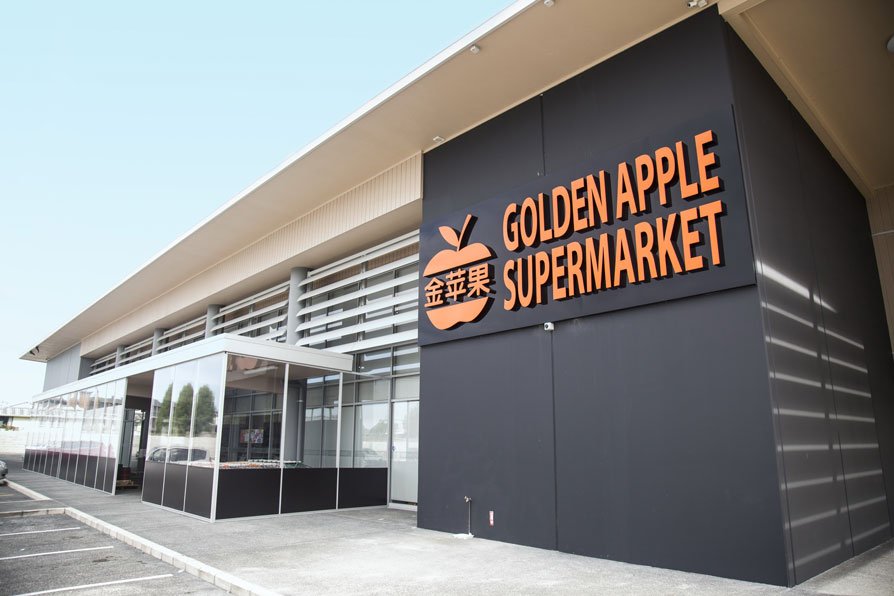 Installing a canopy cover at the entrance to supermarkets can protect merchandised produce and trollies whilst tidying the exterior.
Fresco Shades partnered with Golden Apple to create and install black and clear PVC fabric on a glavanised steel frame in challenging circumstances.
Types of Commercial Awnings
1. Arch Canopy
Classic in design, this canopy awning utilises a quintessential arch structure that seamlessly connects to existing structures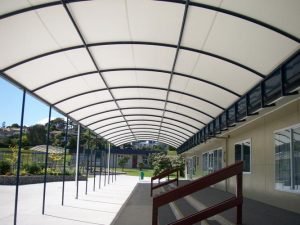 2. Flat Lean-To
An increasingly popular commercial awning within the hospitality industry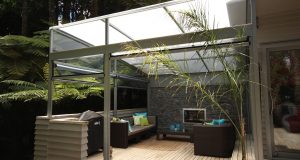 3. Oztech Retractable Roof 
Provides the ultimate flexibility to deal with any weather condition, the fully retractable roof improves ventilation and facilitates cook-outs
4. Free-Standing 
Great when there is no existing structure to attach the canopy to, yet still offering the same robust strength as when attached to a building. Perfect for car storage, pool covers and playgrounds.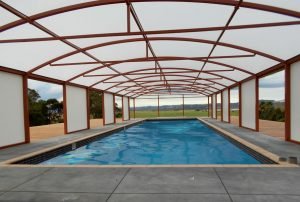 5. Cantilever 
Ideal for providing shelter at recreational clubs
6. Multi-Arch  
The ideal solution for connecting two outdoor areas. Fresco Shade canopies are designed for additional extensions as your business grows
Learn more about commercial awning types here.
Advantages of Commercial Awnings
1. Flexible Design 
Completely customisable, canopies can be free-standing or attached, with the metal frame matching your current building's colour or contrasting.The same goes for the outdoor roller blinds or curtains, with a range of 15 fabrics to choose from keeping your awning on-brand or a stand-out feature. A windy cold day? No problem – the spring-loaded curtains or roller sides protect from winter elements. When the temperature cranks up on a summer's day, these can be opened in-tandem with the retractable roof for ventilation.
2. Cost-Effective vs. Traditional Bricks & Mortar Extensions
Less costly materials combined with a quicker build-time means your business can continue trading with minimum disruption.
3. Simple, Low Cost Maintenance 
You never have to worry about rendering or painting a wall again with canopy awnings. Maintenance involves simply cleaning the canopy awning using household detergent and a cloth (if you don't fancy having a go yourself we also offer a cleaning service).
4. Safe & Durable  
The architectural grade PVC filters all harmful rays so wave goodbye to faded furniture (and sunburnt customers). Fresco Shades utilise cutting-edge Ferrari Precontraint Architectural grade PVC, designed and crafted in France specifically for tensioned roof applications. It's unique multi-layer construct results in a vastly superior lifespan compared with conventional materials. What about the frame rusting in a harsh winter? Not a concern with the durable galvanised steel frame – cut and powder coated in Auckland – for longevity.
If you are ready to talk transformation contact Fresco Shades today.